Start on June 2, 2017, Giga Watt ICO, of Giga Watt Inc., headquartered in Washington, USA, dedicated to the mining of digital coins in a completely new form. Customers become mining entrepreneurs, thanks to turnkey solutions and energy costs paid as if they were a mining company: a wholesale price of 3.3 cents USD/kWh.
Of the innovative method for mining, I spoke with Daria Generalova, Head of PR & Communications at Cryptonomos, a company commissioned by Giga Watt Inc. to deal with the ICO campaign and WTT token.
To join the ICO the reference site is https://cryptonomos.com/wtt/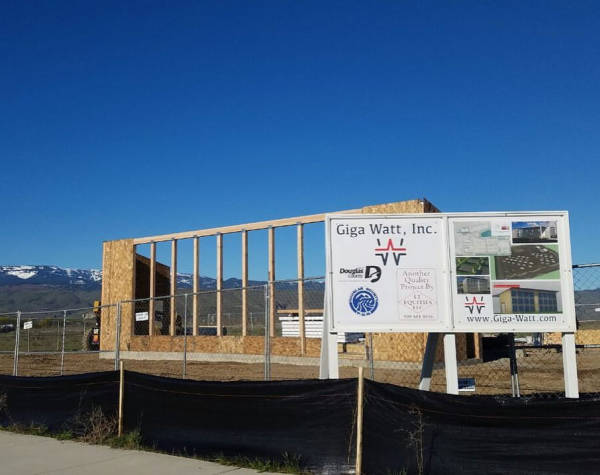 - Building a Giga Pod. Photo from: https://www.facebook.com/gigawattcom/. -
Interview with the Giga Watt team
Are Giga Watt a cloud mining service, a mining pool or what?
It's neither cloud mining nor mining pool. It's a real mining facility in Washington state which offers to host clients' miners to get advantage of cheap electricity and a professional team maintaining equipment. Usually clients pay hosting fees consisted of electricity, maintenance and rent of facility capacity. Through new WTT tokens clients buy rent-free access to those facilities for 50 years (so they pay only 3.3 cents/kWh for electricity and maintenance).
Which digital coins can customers do mining?
Customers can mine BTC, ETH, LTC (for major clients actually any scalable crypto currency is available).
Are the token exchangeable on the exchange platform?
They will be. After obligations to token holders are fulfilled (all facilities are built and all tokens are issued and distributed) tokens will be listed on exchanges. The list of exchanges will be announced later.
What is Giga Pod? Can you explain how the system reduces the energy costs and management of the mining farm?
Giga Pod is an innovation of Giga Watt which shorten the air flow distance (in contrast to standard monolithic data centers) thus saving power and cooling miners efficiently. It also utilizes readily available electrical transformers and switchgear, requires minimum costs and allows progressive revenue earning during construction (you don't have to wait while you build the whole facility, you can start earning as soon as you have built the first Pod).
You use Giga Pods how a mining facilities. This because for you it saves power and has high-efficiency mining. But it occupies more terrestrial surface and the land has a cost (purchase or rent cost). What do you think about?
Pods are high-density facilities (they're relatively small but they may accommodate up to 1.75 MW), I don't think that they occupy more land per megawatt.
The electricity that you use is it from fossil or renewable?
Hydro. Arguably renewable, but definitely green power.
Giga Watt's facility has a 50-year lifecycle. But what customers will do mining in 50 years?
Giga Pods can accommodate any miners and we expand our list of cryptocurrencies to be mined, so customers may mine any currencies which will be relevant in the future. Another point is that they may earn on transaction fees. As an alternative, capacities may be also used to host private blockchains.
Giga Watt ICO: https://cryptonomos.com/wtt/.